Smaller, Lighter and Decibel Dense Microspeakers for Consumer Electronics Using Advanced Magnetic Alloys

Wednesday October 21st 2020, 3:30 PM (EDT) / 12:30 PM (PDT)
Overview

Title: Smaller, Lighter and Decibel Dense Microspeakers for Consumer Electronics Using Advanced Magnetic Alloys
Date: Wednesday, October 21st, 2020
Time: 3:30 PM (EDT) / 12:30 PM (PDT)
Duration: 30 minutes
Steady progress in the miniaturization of electronics combined with increasing demand for multimedia technology requires smaller micro speakers with higher audio output. The goal of improving "decibel (dB) density" adds additional functionalities in consumer electronic devices, but one of the key constraints in miniaturization is the magnetic circuit of the device. Carpenter Technology developed and studied design with high-performance alloys and found an enhancement in performance with reduced device size and better system level benefits. In this webinar, we will share our findings and provide insights into making a power and dB dense smaller and lighter magnetic assembly for microspeakers.
Speakers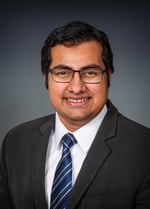 Mehedi Md- Senior Application Development Engineer, Carpenter Electrification: Mehedi works with customers to improve electronic devices' performance by integrating or developing new soft-magnetic materials solutions. He is an entrepreneurial Materials Scientist with eight years of experience in materials development and first principle-based engineering solutions. Dr. Mehedi received his Ph.D. in Materials Science and Engineering from the University of Minnesota Twin Cities and worked at Tesla, Niron Magnetics, and Minnealloy Magnetics before joining Carpenter Technology. He is also a member of the Materials Research Society (MRS), Audio Engineering Society (AES), and Minerals, Metals & Materials Society (TMS).
STAY CONNECTED
GET THE LATEST NEWS AND FULL STACK UPDATES.